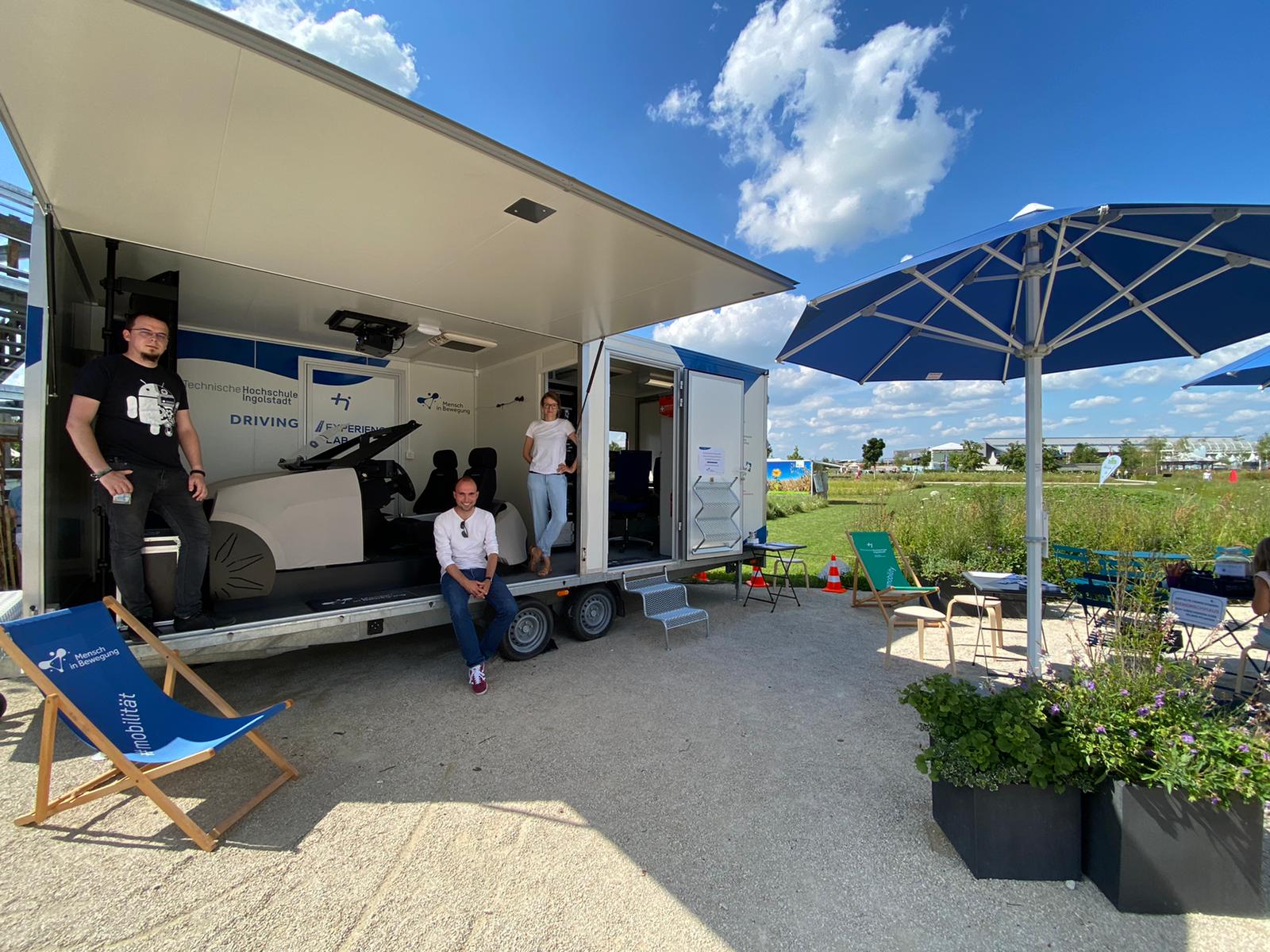 From the early conceptualization, its build-up, continuing development, and ultimately reveal to the public – the Driving Experience Lab (DEL) was one of the main tasks of my employment at Technische Hochschule Ingolstadt. The passenger-car trailer features a driving simulator lab that can be moved anywhere by land. Flexible equipment enables scientific human factors and human-computer interaction studies in the automotive domain. A full-width "show hatch" enables knowledge transfer and presentations to bigger audiences. Most recently, we were able to successfully execute first studies with it at the national garden festival Landesgartenschau Ingolstadt.
We present the lab-in-a-trailer, and the first experiences with it, to industry and academia at the ACM conferences "Mensch und Computer 2021, MuC'21" as well as "Automotive User Interfaces and Interactive Vehicular Applications 2021, AutomotiveUI'21 " with descriptive short papers and accompanying videos each – check them out below! We are thereby proud to have received the "Best Demo" Award at MuC'21 and are grateful for the ideas and feedback collected in many discussions on the DEL.
The (Mobile) Driving Experience Lab at Mensch und Computer 2021
Paper: https://doi.org/10.1145/3473856.3474028

The Driving Experience Lab: Simulating the Automotive Future in a Trailer at AutomotiveUI 2021
Paper: https://doi.org/10.1145/3473682.3481877
360° Digital Walkthrough
Looking for a way to experience the Driving Experience Lab on your own pace? Visit us at Technische Hochschule Ingolstadt ! Alternatively, you can also check out our interactive "Digital Walkthrough" with 360° views and embedded explanations, here: https://hcig.thi.de/mib-del/walkthrough/en/.
Any questions or ideas on the DEL? Contact me!